Today I want to pay tribute to the CCC's great team of local workers. They are 100 % dedicated to the CCC, they understand why they are working with orphan chimpanzees; they sincerely care for each one of them and are committed to their rehabilitation.
 Some of them started to work with us years ago, like Kenda who actually started to work with chimps in 1992 in one the first Guinean sanctuary (their chimps were transfered to the CCC in 1997). Kenda is a wonderful keeper, he loves chimpanzees and wants to dedicate the rest of his life to protect them. He is particurlarly interested in veterinarian aspects and we try to get him involved in a maximum of the chimps health care and veterinary procedures.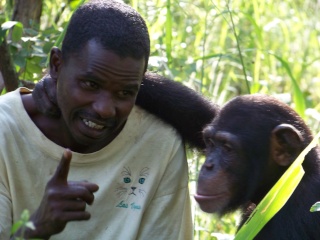 Kenda and Lobai
Antoine (keeper), Ibro (keeper and educator) and Albert (keeper) joined us more than 2 years ago and they are now an important part of the team. Ibro is responsible for carrying out our sensitization and education program in villages and cities in the region. He usually does hundred of kilometers each year to visit remote villages. Ibro is an excellent educator, with kids but also adults! We are glad he is here to promote the important message of protecting the environment and animals!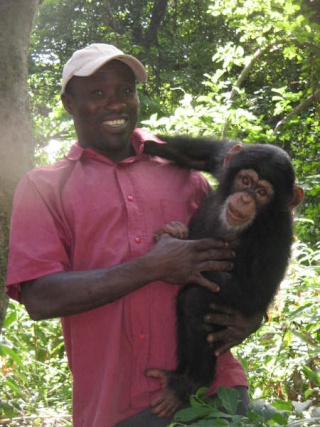 Antoine and Panza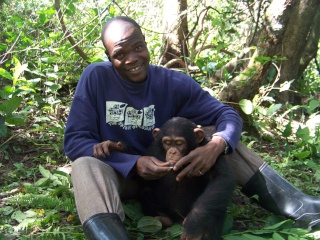 Albert and Ama
Ibro during a sensitization campain with elders of a village
Young keepers (Issa, Ibrahima, Moktar) joined us this year or last year. They are learning their job and they brought lots of energy at the CCC! We are glad they have joined us.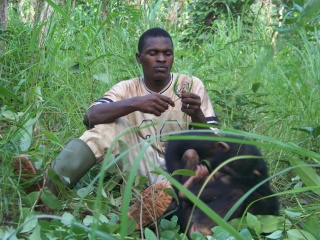 Ibrahima and babies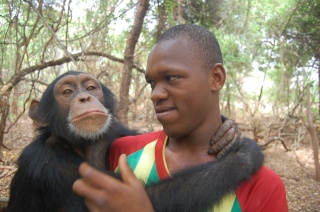 Issa and Nelson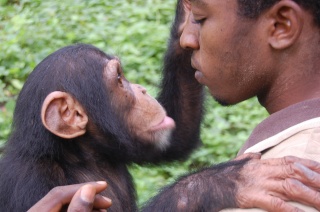 Moktar and Ama
We also have Balde, the driver. He is in charge of the 2 CCC's cars for which Estelle (CCC director) likes to remind  everybody "without a car, no project!" so she usually asks everybody to take really good care of them! Luckily Balde is an excellent driver and mecanic and we do not have too much trouble in the middle of the bush, even if the 2 cars need regular repairs because of the bad roads…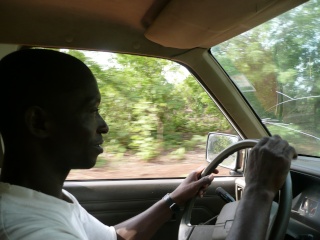 Balde our driver
There is Mamadi, our boat driver. He was born by the Niger river and he used to fish with his dad when he was younger, so he knows really well this big river inhabited by hippos… He is in charge of the CCC's boat which is used to reach the release site. Mamadi, when he is not driving the boat, spends most of his time at the release site where he helps the team to monitor the released chimps; he also keeps the camp and contributes to protection of the Park. He is a young brave man and we are lucky to have him.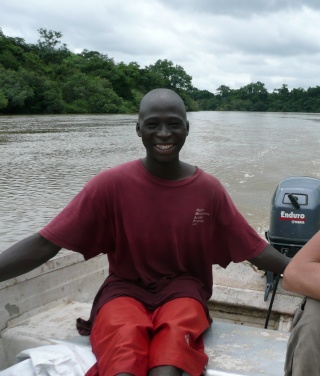 Mamadi on the boat
The other Mamadi (same name and surname as Mamadi boat driver, but they are not relatives!) was hired few months before the release in 2008 to help us conduct the last surveys on the release site. He stayed after the release as a guide. But few weeks ago, he went to the sanctuary to start training as a keeper. Apparently he is doing incredibly well as he learnt a lot about chimps with the adult released chimpanzees, which makes it much easier when you have to work with babies or youngsters!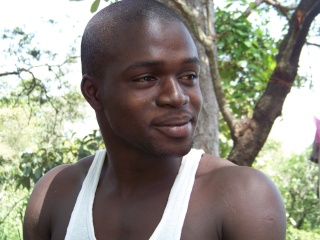 Mamadi
So I am glad to post you the pictures of our workers. Without them, the CCC could not be able to do all the hard work involved in chimpanzee protection and rehabilitating orphans! Please do not forget them, we need them to take good care of the CCC chimpanzees!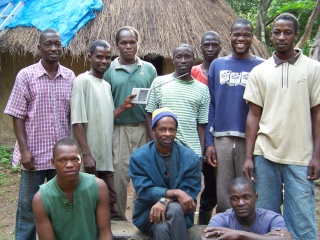 The team (including our welder!)
In an other post, I will introduce you to the other key members of the CCC team. 
Take care
Chris