Hey Everybody,
I am back on-line after being busy working… I am really sorry!
A lot of things have happened since my last post.
The great great news is that we are more than happy to announce that a second baby is born at the release site! Mama, Lottie's best friend, gave birth to a baby girl in March! We hope that Lottie and Mama will both raise successfully this new generation of chimpanzees, which represents the hope for the future of wild chimpanzees in Guinea. These two births already represent a great hope as they show that these released chimpanzees, orphan females who grew up without their mums, can breed and give birth. Lottie already raised successfully Andrew, her first son, released with her in June 2008. In the wild, not every baby chimpanzee survives. We really hope that these babies will make it but we are now confident that these released chimpanzees feel comfortable enough in their new life of freedom to build a new group in the forests of the beautiful Haut-Niger National Park.
Here is a photo of Lottie's son who is doing really well!
I also told you that the wild female – who chosed to live in our adult group at the sanctuary- gave birth to a baby last December. I finally got a photo as well of this beautiful girl… Loundan (which means "the foreigner" in Malinke, the local language) is  confident enough to raise her daughter next to us but she is totally wild! This is a beautiful gift and we are really happy that one of our male is the father of this beautiful girl.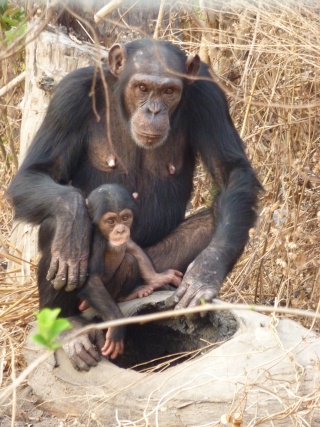 The birth of 3 wild babies in less than 6 months is a breath of fresh air and give us energy to continue our fight, with you,  to protect chimpanzees.
More news in a coming post!
take care, Chris